Een 30 minuten behandeling voor gerichte resultaten.
De Esse Express behandeling is een ideale kennismaking voor diegenen die nog niet bekend zijn met onze producten en behandelingen of voor diegenen die nog niet precies weten wat ze willen bereiken.
De productkeuze wordt aangepast aan jouw unieke huidbehoefte na een grondige huidanalyse.
Deze behandeling is ideaal voor diegenen die op zoek naar optimaal resultaat in een korte tijd.
Je kunt deze opties toevoegen om de Esse Express te optimaliseren.
Massage: Esse Lifting (30 minuten)
Deze massage pakt de verouderende huid aan en maakt gebruik van myofasciale loslating en liftende bewegingen om de vermoeide, doffe huid te revitaliseren, terwijl circulatie toeneemt en spanning afneemt. Het levert direct resultaat met verbeterde textuur, een vollere huid en een heldere uitstraling.
De Lifting massage is een perfecte uitbreiding voor je behandeling, wanneer je tekenen van huidveroudering, als fijne lijntjes en rimpels en verlies van stevigheid en elasticiteit, wilt aanpakken. De stevige druk zorgt voor een diepe ontspanning in het gelaat, waardoor spanningen verminderen en de huid een zachtere uitstraling krijgt. Vanwege de stevige massagegrepen is deze behandeling niet geschikt voor de gevoelige huid.
Massage: Esse Scalp Tension Release (15 minuten)
Massage van de hoofdhuid zorgt voor een toename van de doorbloeding naar de haarfollikels, stimuleert de zenuwuiteinden en ontspant. Deze stressverlagende behandeling kan worden toegevoegd aan elke behandeling en er is keuze uit gebruik met of zonder olie.
Massage: Eye Tension Release (10 minuten)
Deze snelle behandeling is ontworpen voor vermoeide ogen om te ontspannen. Deze stimulerende behandeling verstrakt de oogcontour, door een combinatie van stenen, accupressuur en lymfedrainage.
Massage: Esse Anti-inflammatory (20 & 40 minuten)
Deze massage focust zich op het kalmeren van een overactief zenuwstelsel en het verminderen van inflammatie door een intense stimulatie en activatie van het lymfesysteem. Uitermate geschikt voor de gevoelige huid, de behandeling maakt gebruikt van hulpmiddelen om de huid aan te raken en te kalmeren.
Vanwege de stimulatie van zowel het lymfesysteem als parasympatisch zenuwstelsel, wordt de 40-minuten optie vooral aangeraden bij een zeer gevoelige huid of klanten die veel stress ervaren. 
De Anti-Inflammatory Massage kan worden toegepast op alle huidtypes, met name op huidcondities met veel inflammatie, als acné, rosacea, eczeem en dermatitis.
Massage: Esse Foot Tension Release (25 minuten)
Een aangepaste voetbehandeling inclusief een exfoliatie en ontspannende voetmassage met een masker dat Spirulina bevat. Deze extra behandeling is gefocust op het loslaten van lichaamsspanning door de voeten.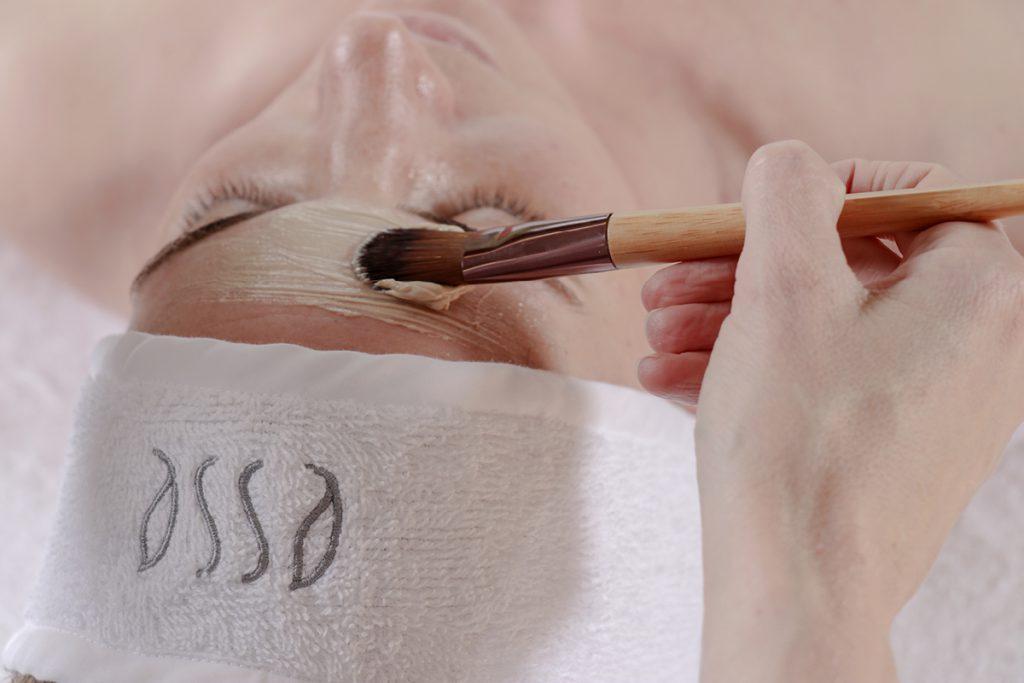 Vind de dichtsbijzijnde salon